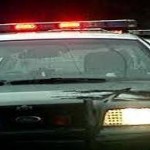 A domestic battery-related arrest was made by Riley County Police at approximately 7:30 PM Thursday in Ogden.  Police responded to a complaint of a heated altercation between persons known to each other.
Alvin Mason, 30, of Junction City was arrested for domestic battery, criminal damage to property, intimidation of a victim or witness, as well as two warrants for failure to appear, with the original offenses of domestic battery and driving while suspended. This arrest came after Mason reportedly damaged a cell phone which belonged to the 25-year-old female victim while she was on the phone with 911 reporting the domestic battery.
A second owner of the cell phone was listed as a 31-year-old female. Mason's bond was set at $9,000.
###
A 49 year-old Manhattan man faces several charges after his arrest by Riley County Police Thursday evening in the 2000 block of Beck Street. Kenneth Farrington's charges include cancelled or suspended driver's license, DUI, habitual violatior, and refusal of a chemical test. Farrington's bond was set at $5,000.
###
Riley County Police responded to a complaint of criminal damage to property and filed a report for CDP and contributing to a child's misconduct on Thursday for an incident that reportedly occurred around 1:00 PM. Antonio Saverino, 34, of Manhattan reported his 2010 Chevy Camaro had been damaged, with paint scratched, while it was parked at the Flint Hills Job Corp on Eureka Drive.
Upon arrival police found two subjects appeared to be responsible for this intentional damage. Brandon Jones, 17, and Devin Holz, 18, both of Job Corps in Manhattan, were taken into custody. Jones was released to a parent or guardian. Holz faces charges of  criminal damage to property and  contributing to a child's misconduct.
Holz's  bond was set at $4,500, with the total estimated loss of criminal damage in excess of $1,000.
###
A report of criminal damage to property was filed in the 300 block of Hunter Place in Manhattan Thursday afternoon at approximately 3:40. Police were told by Michael Williams, 25, of Manhattan that the top of his 2005 Hyundai Elantra was damaged while parked at his home.
The total estimated loss is approximately $1,300 which apparently involved an unknown subject or subjects running across the roof of the vehicle.