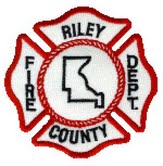 Fire caused substantial damage to a Riley apartment early Thursday morning. Riley County Fire Chief Pat Collins tells KMAN 18 to 20 firefighters responded to the fire, which caused an estimated $25,000 to $30,000 damage.
The apartment, located in the 300 block of North Noble, belongs to the Riley Housing Authority. A candle that had been knocked over is the apparent cause.
 The fire was reported at 3:25 a.m. There were no injuries, although the occupant, Bethanie Ramsey, 59,  was transported to Manhattan for lodging.