By Jason Beets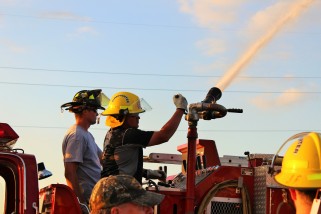 Earlier this month, Riley County fire volunteers practiced a training exercise at the new Flint Hills Area Transportation Agency Bus Facility. Riley County Fire Chief Pat Collins said his department relies on volunteer firefighters.
"People call 9-1-1 and in the city you know you're going to get a response. In a rural area, if you don't have people that have dedicated time and effort to be a volunteer firefighter, we don't get that response. Houses burn down, buildings burn down, people's lives are at stake," Collins said.
Collins said one of the things his volunteers practice is how to get water to a rural fire.
"Most of the places around the county don't have hydrants so one of the big things we practice a lot of is shuttling that water from a point someplace that has a municipal water source to the fire," Collins said.
Collins said volunteers also practice how to ladder a building and where to ventilate a burning building to let hot gasses out.