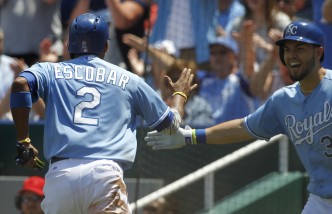 KANSAS CITY, Mo. (AP) — The hallmark of a good team, at least in Royals manager Ned Yost's opinion, is the ability to wedge open the smallest of openings that an opponent provides.
His club sure did that against Cleveland on Wednesday.
The Royals scored all their runs by tying a franchise record with four sacrifice flies, and Yordano Ventura dominated the Indians over seven stingy innings in a 4-1 victory.
"It's finding a way to win a ballgame that's important," said Yost, whose team has won four straight. "Good teams find ways to score those runs, and we did it four times today."
In doing so, the Royals became only the second team to score four runs all on sacrifice flies since it became an official stat in 1954. The Expos managed to do it against the Cubs on May 28, 1980, according to STATS, although that happened in an 8-4, 14-inning loss.
"See?" Yost said. "We made history."
Ventura (4-5) allowed six hits while striking out three without a walk to win back-to-back starts for the first time. The only run he allowed came in the sixth, when he gave up consecutive singles to start the inning and Carlos Santana hit an RBI single.
By then, Indians counterpart Trevor Bauer (1-3) had already allowed sacrifice flies to Jarrod Dyson, Omar Infante and Alcides Escobar. Billy Butler added another sacrifice fly off reliever John Axford in the seventh to complete the scoring.
"Usually I'm able to strike out guys in situations like that," Bauer said. "I made a couple of good pitches today, but they fouled them off and put them in play. So it is unusual."
The Indians loaded the bases off Wade Davis with nobody out in the eighth, but two strikeouts and a groundout ended the threat. Greg Holland worked a perfect ninth for his 19th save.
The Royals (33-32) moved over .500 for the first time since May 18. They also jumped over Cleveland into second place in the AL Central as they embark on a trip that begins with the White Sox and concludes with the division-leading Detroit.
Lonnie Chisenhall had a pair of hits for Cleveland, extending his hitting streak to a career-best nine games. He's had at least two hits in his last five.
Prior to the game, Indians manager Terry Francona recalled with disdain the last time his club faced Ventura — the young flamethrower's debut last September. Ventura allowed one run over 5 2/3 innings, and at one point threw a pitch to Yan Gomes clocked at 102 mph.
"He's got pretty special stuff," Francona said. "Kind of hope we don't see that today."
Turns out he did. Ventura kept the ball down in the strike zone and forced the Indians to chop into a series of groundouts. He retired seven straight batters at one point, never allowing a ball to be hit out of the infield.
"I went out there with the mentality to throw a lot of strike," Ventura said through a translator. "Something good was going to happen if I threw a lot of strikes."
Nobody was more frustrated than Jason Giambi. With the Royals shifting their infield, the Indians DH grounded out to the exact same spot three straight times before popping out.
"He's got great stuff," Giambi said. "When he locates like he did today, he's tough. He really is. He's got good mound presence and attacks the strike zone."
The Royals scored their first run when Dyson followed a double by Mike Moustakas and a single by Escobar with a sacrifice fly in the third. Nori Aoki followed with a single, and Infante hit his sacrifice fly to give the Royals a 2-0 lead.
Escobar's sacrifice fly came after a double by Salvador Perez and a single by Moustakas in the fourth, and Butler added his sacrifice fly after singles by Infante and Eric Hosmer.
That was enough to beat Bauer, who has still never won in seven road outings. The Indians starter allowed three runs on seven hits in 5 1/3 innings.
"That type of energy and intensity we played with today, that's the way we need to play," Butler said. "Bauer was pitching really well. Every opportunity we had we capitalized on."