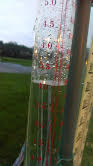 A few flooding issues were reported in Riley county, with a 10:30 p.m. report of Blue River Hills Road and Stockdale Park Road as flooded, with Wildcat Creek being watched closely. A flash flood warning was issued shortly after 10 last night until two a.m. for portions of Riley and Pottawatomie Counties. Wildcat Creek remains under a flood warning. At last report the creek was at 17.3 feet and rising.
The Pottawatomie County Sheriff's dispatcher indicated Tuesday morning no problems or flooding issues reported there overnight though.
A little more than three inches of rain is reported at the KMAN studio. Other sites in the Manhattan area are reporting four to five inches of rain.