STEM Summer Institute is a collaboration between K-State's College of Education and USD 383 that provides educational experiences for middle school students in everything from technical skills to engineering. Thursday's STEM session featured special guests from the Manhattan Fire Department and the Office of the State Fire Marshal.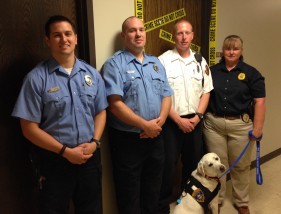 Chief of Investigations Rose Rozmairek and her yellow Labrador partner, Tana, demonstrated the impressive service they provide to the investigative community. Tana is a fire dog trained in detecting flammable liquids found in fire scenes. Chief Rozmairek was asked about her partnership with Tana and the importance of her line of work.
"[Fire dogs] have been an asset to us. They reduce our on-scene time because of their ability to quickly identify [our samples].  It gives us more time to do background and follow-up investigations so we can hopefully clear our cases a little quicker."
Chief Rozmairek mentioned that the use of canines in fire and law enforcement investigations has become even better alongside the advancement of technology, and she sees a bright future for the partnership between working dogs and investigations.