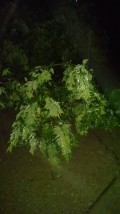 A powerful line of Thunderstorms moved through Northeast Kansas early Sunday morning resulting in downed power lines and scattered power outages.
The storm brought heavy rain accompanied by high winds at around 1:30 a.m. to the Manhattan area. Multiple power lines were reported down in the area around Westloop Shopping Center. Westar Energy reported approximately 2,100 homes without power at 2:30 a.m. Sunday, 135 in Pottawatomie County and approximately 2,150 in Geary County. Crews were hopeful of having power restored by sunrise.
Earlier in the evening the same storm downed power lines and trees in Republic County and Concordia reported a 67 MPH wind gust shortly after Midnight.