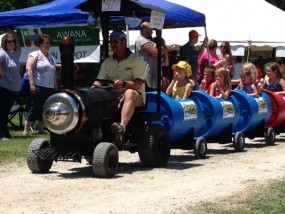 "A great selection of arts and crafts , the car show is massive, and food vendors are great–we've got a wonderful food court" were the words Debbie Adcock used to describe this year's Washunga Days, held annually in Council Grove.  Adcock serves as Executive Director of the Council Grove/Morris County Chamber of Commerce & Tourism, and she was pleased with the turn-out at the event. New this year were helicopter rides at an additional cost. Adcock also mentioned the Kaw Inter-tribal Powwow as a unique feature. Lots of children's activities were also part of Saturday afternoon's festivities at Riverwalk Park.
Steve Davidson, with the "Churn of the Century" was also happy with the crowd, that enjoyed his food booth's homemade ice cream. Davidson said the engine of the churn was built in 1922 and added he can go all day on a gallon of gas.
Brent and Laura Sharp of Goddard had their Rio Jo's Southwest Jewelry Designs at the arts and crafts portion of Washunga Days, held at the Council Grove High School. Brent Sharp mentoned the good turn-out, with a lot of people.  Brent Sharp said "We love the Flint Hills area," adding Council Grove is a "neat historical town. It's a lot of fun."
The festival continues Sunday with a church service, vintage base ball game, and arts in the park.