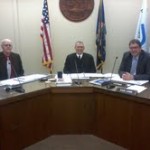 Riley County Commissioners are continuing to work through their budget process for the 2015 budget.  Requests were completed last month, and work sessions came to a close Monday afternoon.
Before coming to a consensus to move forward with the budget worksheet they have been working on, commissioners asked a few department heads about why they chose to cut/add into their own individual budgets.  They also asked that Budget and Finance Officer, Johnette Shepek give a re-cap of the commissions previous decisions.
The commission chose to eliminate a transfer from the capitol improvement projects fund, and decreased the transfer out of economic development.  They also chose to accept a 1.4% cost of living allowance (COLA) for every employee, instead of the expected 1.6%.
After everything was said and done, the commission chose to move forward with the 2015 budget they came up with.
The proposed budget involves expenses of $31,074,581, revenues of $9,770,796, and $21,303,784 required of ad valorem taxes.  The projected mill levy would be at 37.524 mills, which is an increase of .432 over 2014.
Shepek mentioned there are a few more steps before the budget is officially finalized.
The commission commended department heads for their work on being frugal with their individual budgets.
———————-
Earlier that day, the commission approved two budgets regarding the health department.
The first budget was for the Women, Infants, and Children (WIC) Local Agency, and the second was the Breasfeeding Peer Counselor budget.
Both of these are funded through the state, yet require county commission approval before being sent in.