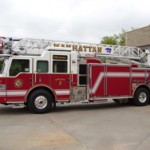 Yet another fire has been reported overnight by the Manhattan Fire Department. At 2:00 a.m. (Wednesday) the Manhattan Fire Department was dispatched to 823 Colorado Street for a report of a structure fire. Upon arrival, crews found a detached garage structure with heavy fire showing throughout the structure. Four fire apparatus and fourteen firefighters initially responded to the fire and it was contained within minutes.The structure was vacant at the time of the fire. Loss is estimated as $10,000 to the structure, $5,000 to the contents and $2,500 to a vehicle that was in proximity to the structure. The owner is listed as Jeremy Meyers of Manhattan.
Fire crews are currently still on scene. The fire cause is under investigation at this time.
As reported previously by KMAN MFD responded to two fires Monday.