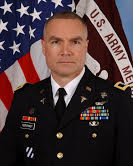 Command of the Irwin Army Community Hospital on Fort Riley has changed hands.
During a ceremony Wednesday morning at Calvary Parade Field on the fort, Col. Barry Pockrandt passed the reins to incoming commander Col. Risa Ware.
The commander at Fort Riley is in charge of Irwin Army Community Hospital, the Warrior Transition Battalion, two clinics in the Custer Hill area or the fort, and Veterinary Services.  The command has nearly 2,000 employees including Soldiers, Department of the Army civilian employees, and civilian contractors.
Col. Pockrandt has been commander of the facilities since July 2012.  His departure is due to new assignment as the Chief of Staff at Fort Belvoir Community Hospital just outside Washington, D.C.
Before serving as the new medical commander at Fort Riley, Col. Ware's most recent assignment was the Deputy Commander for Nursing at the Walter Reed National Military Medical Center in Bethesda, Maryland.