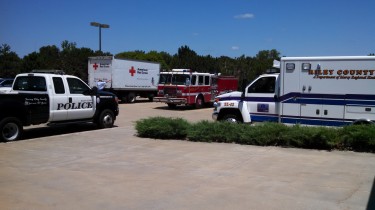 The 11th Annual Battle of the Badges is Monday and Tuesday (July 28th and 29th) in cooperation with the American Red Cross.  The Battle of the Badges puts a fun spin on a regular blood drive.  Manhattan emergency agencies are on site, Riley County Police, Riley County EMS, and Manhattan Fire Department have their respective vehicles and are available to visit with the public.
American Red Cross Sr. Donor Recruitment Rep., Kristi Ingalls, says the event is all about humanizing the heroes, which is a motto she ran across on a social media site.  In an interview with KMAN, Ingalls said, "Humanizing our heroes is truly what this blood drive is all about. These are local heroes in our community and this is chance for you to come out and meet them and get to know them when they're not saving you necessarily.  You can see what they're about, give blood and save lives, and help your community."
Currently there is a national appeal for blood. Which means there is almost a shortage of blood.  Riley County EMS Director Larry Couchman said this is not just a national problem. "It's a local issue, it's a statewide issue, I highly encourage you to come out, if you're not a regular donor this is fun event to start and give back."
The blood drive is at St. Thomas More Catholic Church at 2900 Kimball Avenue.  Drive times are Monday from 11:30 to 6:30, and Tuesday from 7:30am to 1:30pm.  After you donate, you can vote for your favorite emergency services department.  Each department will be campaigning for your vote with small giveaway prizes.