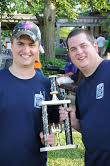 The Fourth Annual RCPD vs. MFD BBQ Competition will take place this Saturday during the Relay for Life event held in the Manhattan City Park. Each year the two emergency services agencies pit members against each other in pursuit of perfectly smoked and barbequed pulled pork, chicken, and ribs.
RCPD has taken home the trophy for the past three years and hopes to make it a fourth this year. MFD on the other hand is desperate for a win and, according to team leader Sam Dameron, is going to be pulling out all the stops . The competition helps support Relay for Life and is just one of the many competitions or events that the two agencies take part in. Last year, fire fighters won a rib eating contest against the police in an event sponsored by Texas Roadhouse in Manhattan and earlier this year RCPD and MFD let two of their employees switch places for the day.
Both teams will serve to survivors beginning at 5:30 PM, the public at 6:00 PM, and will then begin turning in meat at 6:30 PM to be judged. Judges, who have yet to be determined, will then pick the winner in several categories as well as overall.
The BBQ Competition will be held in City Park near the City Park Pavilion throughout the day.