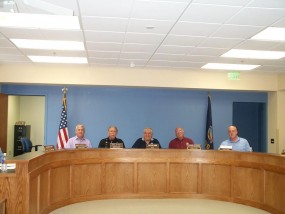 Wamego's USD 320 Board of Education prepared for new school year.  At Monday's meeting, Board President Amy Schwein opened the meeting by asking for nominations for 2014-15 Board Officers.   Board Member Richard Weixelman was nominated and accepted the President's position, and Board Member Rob Adams was nominated and accepted the Vice President's position.
As the new Board President, Weixelman's first duty was to regretfully accept the resignation of Board Member Ken Hitch, who represents the 1stDistrict, due to personal reasons.  The Board will be advertising for a replacement to fill Hitch's vacancy in the Wamego Times, and will review the candidates at the August board meeting.
The board adopted the necessary resolutions for the new school year.  At Monday's meeting, the Board adopted the 1116-hour school term by a vote of 5 to 1, with Board Member Mark Bettencourt opposed.  State law provides that a board of education may adopt a 1116-hour school term OR a 186, six-hour day term.  Superintendent Denise O'Dea said the hourly plan provides more flexibility in the event of school closings for weather or other emergency conditions.
The Board adopted the resolution to establish home rule by the Board of Education.  O'Dea said this is done annually and establishes that the board is their own boss of the board and is not subject to outside intervention by other governmental entities.  The Board adopted a resolution specifying the dates and times for the Board meetings, with noted exceptions.
The Board adopted the resolution seeking waiver of the requirements by law applying generally accepted accounting principles (GAAP) to the Districts financial reports and audits.  This waiver is required annually because the legislature established that a school district could seek a waiver from requirements imposed on municipalities for financial reports, because school districts operate on cash basis law.  The resolution also grants exemption from fixed asset accounting.
The Board voted to rescind all previous policy and rule statements, and made the decision to review all the new board policies at the upcoming Board Retreat, for approval at the August Board meeting.    Also, Board Member Amy Schwein was voted as the KASB Board Delegate.  This will be her second term as a voting delegate to the KASB Board.