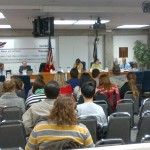 Manhattan Ogden USD 383 School Board Member, Leah Fliter was selected as the board president during Wednesday night's board meeting.  The election of board officers customary during the first meeting of the fiscal year, and a vice president is also chosen at that time.
Board Member, Marcia Rozell was selected as the vice president.  Name plates were switched around after the voting, and previous school board president, Curt Herrman was presented with a plaque for his service.
—————–
Another part of the first meeting of the fiscal year is to begin budget discussions.  Director of Business Services, Lew Faust shared some statistics from previous years, and shared the budget authority from the 2014 budget.
Although no official decisions were approved regarding the budget, another budget discussion is set for the board's next meeting on July 16th.
—————–
Several improvement and replacement projects were brought before the board during the meeting.  Director of Maintenance, Keith Noll presented five different projects:  elementary school playgrounds, middle school parking lots, Ogden Elementary carpet replacement, middle school tile replacements, and the College Hill Preschool facility improvements.
The first four projects were unanimously approved with little discussion, but a few board members shared concerns with the College Hill project.
Vice President, Marcia Rozell stated that she approves of the security projects for the building, as they need to be done, but she is not sure about the other stages of the renovation project because the facility is outdated.
Board member, Aaron Estabrook had similar thoughts, and mentioned these discussions about the building actually began last year.  "Does it take a year? Really? These are the most vulnerable kids in our district, this needs to get done", commented Estabrook.
Board member, Darrel Edie said he agreed with Rozell and Estabrook about the need for new security doors, but added that the preschool needs to move to a different location eventually.