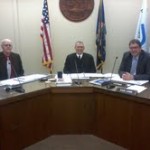 Case managers have been hard to come by for the Riley County Health Department's Ryan White program.  Over the past few years, the department has been through several case managers.
During Thursday's county commission meeting, Health Department Director, Brenda Nickel presented a possible solution to this problem, involving Positive Connections out of Topeka.
She explained the temporary agreement allows the Positive Connections case manager to be co-located at the health department.
After a few questions, the commission approved to sign the lease agreement.
County Commissioner, Dave Lewis commented, "this sounds like a good situation for everyone involved".
————————–
Another budget work session was held that afternoon.
Budget and Finance Officer, Johnette Shepek returned with some of the figures the commission had requested.  Shepek provided a few different options for employee raises, and entered them into the budget worksheet.  The options included taking the cost of living allowance from 1.6 down to 1.25.
As far as budget cuts, the commission looked into possible cuts within the county building fund and the economic development fund.
The next budget work session will be held during their meeting Monday, and the goal is to have the budget completed by July 10th.