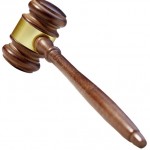 The Kansas Court of Appeals affirmed a decision from the lower courts Thursday, involving a Riley County police officer who was terminated back in 2010.
Previous patrol officer, Sam Hamilton was fired after several reported incidents of violating traffic laws during a number of high speed chases.  Hamilton appealed this decision, and went to the county law board regarding the termination.  They found the firing was justified, so he then moved on to the county district court, who also agreed with the termination. After these failed attempts, Hamilton tried going to the Kansas Court of Appeals.
KMAN spoke to Riley County Police Department Director, Brad Schoen about the decision.  Schoen indicated the court heard every side of the case, and "didn't work through it in a hurry".
Now that the case has come to a close years later, Schoen reflected on the entire incident.  "Having been through a number of these things now, there is no joy or despair when the decision comes down.  You just do the right thing, and whatever happens, happens", Schoen commented.
Since the court affirmed the previous decision, the termination will stand.