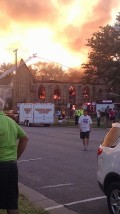 ABILENE, Kan. (AP) Officials say a fire destroyed a theater housed in a historic church in Abilene.
No injuries were reported after the fire Wednesday night the Great Plaines Theatre in downtown Abilene.
Dickinson County Emergency Management Director Chancy Smith said the theatre was a total loss. He says no one was inside the building at the time of the fire. The cause of the fire is under investigation.
The building housing the theater was built in 1881 and served as the First Presbyterian Church for years and was later converted to a live theatre.
It was the second historic Abilene building to be destroyed by fire in less than two years. The Kirby House, a landmark restaurant, burned to the ground in February.