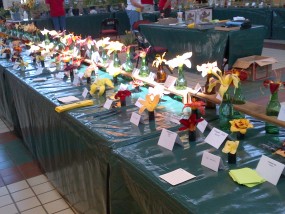 Hundreds of daylilies could be viewed during the annual Flint Hills Daylily Festival on Saturday.  The event was held in center court at Manhattan Town Center from 10 a.m.-4 p.m.
Several Flint Hills Daylily Society members were on hand to share their knowledge of the plants with event-goers.  Visitors could vote on their three favorite daylilies, and had the opportunity to purchase plants as well.
President of the Flint Hills Daylily Society, Steve Thien said the abundance of rain this year has helped to produce a better assortment of daylilies.
This festival is an annual tradition, and according to Thien, it has been taking place since the mall originally opened.
The daylily got it's name because it is only open for one day.  Thien commented, "some people will say 'why do you only grow a flower that's open one day?'  You can look at it another way- you can't buy these at any florist, so the only way to see them is to grow them".  Thien added, it also makes every day a new adventure in the garden.
The Flint Hills Daylily Society will be holding a special daylily sale on Saturday, August 30th from 8 a.m.-noon at the Farmer's Market located outside of Dillards.