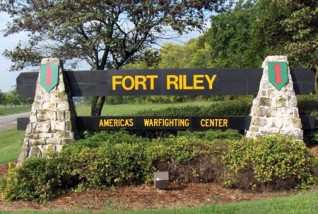 Area officials are stressing the message that Fort Riley's surrounding communities are dependent on the size of the Army post. As previously announced, the Department of Defense and the Department of the Army are seeking public comment about the possible massive downsize, according to Manhattan Area Chamber of Commerce President Lyle Butler.
"Over and over I am told by our military neighbors and their families what a great place Manhattan is to live, work and raise a family, and how Fort Riley is the the best kept secret in the Army. Let's do all we can to keep Fort Riley open and mitigate the number of possible jobs lost," Butler's office commented.
Fort Riley is the largest employer in the region, making the post critical to the surrounding economy. Though the support is a two-way street, and businesses in the Manhattan area encourage military spouse employment and transitioning veterans into the civilian workforce.
Butler is asking for all the public support we can turn out, and says comments can be as long or short as you like. Comments are due no later than August 25th.
Send your comments in via mail to the U.S. Army Environmental Command, Attention: SPEA Public Comments, 2450 Connell Road (Building 2264), Joint Base San Antonio- Fort Sam Houston, TX 78234-7664.
You may also email your comments directly to usarmy.jbsa.aec.nepa@mail.mil.
The link to the Federal Register and Full SPEA report is found at https://federalregister.gov/a/2014-14733.
For more information, visit the Manhattan Area Chamber of Commerce's website, www.manhattan.org, and click on the Big Red One symbol at the bottom of the page. Tune into 1350 AM for real-time updates on Fort Riley.
Also this week Governor's Military Council Executive Director John Armbrust of Manhattan and Kansas Lt. Gov. Jeff  Colyer visitied Washington D.C. in an effort to protect military installations in the state,  including Fort Riley.