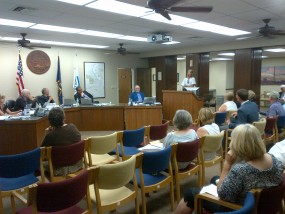 Several University Park benefit district residents attended the public hearing, held during Thursday's Riley County Commission meeting.  The hearing was regarding the sewer rehabilitation project for the district.
A petition for the project was circulated the last couple months, and after there were not enough signatures-it appeared the project would not move forward.  Soon after, an emergency order was issued for University Park, citing the area for unlawful discharge of waste water.
This citation prompted the county commission to take action, and resulted in the idea for a hearing.
A few residents took the podium to bring their concerns forward.  One woman asked the commission where all the money went that the residents have paid over the years.  County Counselor, Clancy Holeman explained, those funds are used for everyday operational costs, not projects like this.  He assured the woman, "there is not just a pot of money sitting out there".
Another resident said he recently purchased three lots, which he intends to use during the summer months.  He mentioned he only uses a few dollars worth of water, yet has to pay a set fee every month.  Holeman addressed this comment as well, and explained when you are a member of a benefit district-you must pay your share, regardless of how much you use.  A benefit district resident pays for their hook ups to water and sewer, as they benefit the property.
Commission Chair, Robert Boyd commented, "I don't see what choice we have.  If we don't do the project, you're all [the benefit district residents]going to receive eviction notices".
The commission unanimously approved to sign the resolution.  They also approved to sign a grant application that could potentially fund park of the $4.2 million project.