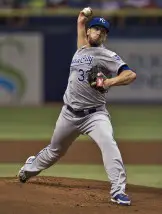 ST. PETERSBURG, Fla. (AP) — Back on the mound at Tropicana Field, Kansas City's James Shields looked and felt right at home.
The right-hander sparkled in his return to the stadium where he earned a living for the first seven seasons of his career, limiting the Tampa Bay Rays to three hits and striking out 10 in seven innings to help the Royals beat his former team 6-0 on Monday night.
No pitcher has had more success at The Trop than Shields, who remains Tampa Bay's all-time leader in victories with 87, including a franchise-best 47 at home.
"It's definitely special to come back here," said Shields (9-4), who was dealt to the Royals in December 2012 as part of a seven-player trade in which Kansas City sent 2013 AL rookie of the year Wil Myers and another top young prospect, Jake Odorizzi (4-8), to Tampa Bay.
"There's so many memories. I've thrown some shutouts here and I've also thrown some champagne on the field," the 32-year-old said. "The fans were great tonight to me, welcoming me back, and that's always a great feeling."
Shields allowed singles to Ben Zobrist and James Loney in the first two innings, then worked through a jam in the third after giving up a one-out double to Kevin Kiermaier. He retired 10 straight, six by strikeout, before hitting Evan Longoria with a pitch leading off the seventh.
Alex Gordon and Omar Infante drove in runs in the third inning for the Royals, giving Shields all the offensive support he would need to beat Odorizzi.
"We've seen that act before," Tampa Bay manager Joe Maddon said of the performance by Shields. "Wrong uniform this time, though."
Shields, who had struggled in his three most recent starts, rebounded from allowing five runs and nine hits over five innings of a 10-2 loss at Minnesota last week.
"You could tell right off the bat that, OK, let's get this guy a couple of runs and let's ride with it," Royals manager Ned Yost said. "That's exactly what happened."
The Royals tacked on two runs in the eighth and two more in the ninth — with Infante and Gordon both collecting their second RBIs of the game — and finished with 14 hits.
Wade Davis, another former Tampa Bay pitcher the Royals obtained in the Shields trade, worked a perfect eighth. Scott Downs finished the combined four-hitter, giving up a ninth-inning single to Zobrist.
The loss was just the third in 13 games for the Rays, who were coming off a road trip in which they went 9-2 to climb out of the AL East cellar.
Odorizzi allowed two runs and six hits, struck out eight and walked two in his third career appearance against the Royals, who beat the 24-year-old in Kansas City on April 9.
"All the series we played on the road we played fantastic. I guess we were kind of due for one of these games," Odorizzi said. "I don't think this game is really going to set us back that much in the long run."
Shields won his only previous matchup against his former team 8-2 at Kansas City on April 30, 2013.
He remains Tampa Bay's career leader in starts, strikeouts and innings pitched, in addition to wins. He won the franchise's first-ever postseason game and owns the club's only World Series victory.