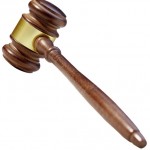 A Leonardville man facing a second degree murder charge in a 2008 case in Riley County is now set for an October first hearing.  Howard Barrett, 58, is accused in the February 2008 stabbing death of  Thomas James, 48, of Clay Center, who was trying to do pest control work in Barrett's apartment in Leonardville. The new hearing date was set earlier in the week (Juy 15th).
A couple of weeks ago a request from Barrett's attorney was approved that a competency hearing and jury trial be reset and that the attorney be allowed to withdraw due to communication issues with the client.
###
An August preliminary hearing has been set for a 19-year-old Manhattan man who faces several charges which include possession with intent to distribute marijuana. Daniel Weisman's hearing is set for August 12th. Weisman and Connor Yeager, 18, of Manhattan were arrested last month after a search warrant was served in the 1800 block of Elaine Drive in Manhattan.
###
In other Riley County Court action recently, Mohammed Abduljabbar, 27, of Manhattan has been sentenced to several 12 month sentences with many of them concurrent . While immediate probation was denied, Abduljabbar was granted probation after serving 48 hours. He was also sentenced to 12 months probation and instructed to pay court costs and to have no contact with females in the case.
Abduljabbar was arrested in March, with the original offense listed as stalking.
###
In Pottawatomie County Court,  Missouri woman was sentenced Thursday in Pottawatomie County District Court for felony fleeing and eluding. Ashley Gillispie, 28, was sentenced to six months but granted probation for 12 months. She was also assessed costs. Gillispie also has warrants in Missouri and will be transferred to the law enforcement jurisdiction there.
Gilliespie entered a no contest plea last month to the charge, with other misdemeanor charges dismissed. She was involved in a two-county chase with area law enforcement after a traffic stop by a Pottawatomie County Sheriff's deputy which began about three miles west of St. Marys. Gillispie was driving the vehicle involved, with the passenger,  Jason Gillispie, 30, sentenced last month to 12 months with 12 months probation.