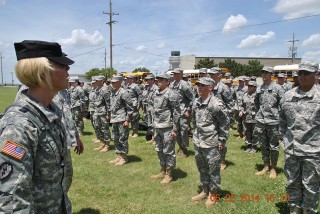 Through the last week of June, Kansas Army National Guard soldiers motivated 280 high school Junior Reserve Officer Training Corps cadets through a rigorous training event called the JROTC Cadet Leadership Challenge, also known as Camp Konza.
"We started Camp Konza with the help of the Kansas Army National Guard fifteen years ago. We went to Salina (National Guard Regional Training Center) to give these kids a very positive experience in building leadership skills and to make the camp a challenge… so that young men and women, when they completed it, would realize that they had truly completed something. It wasn't just a give-me. It was something they had to work for, they had to sweat for, and they had to perform to achieve," Major (Retired) Chuck Wright told KMAN. Maj. Wright is a Junction City High School JROTC instructor, and has been the state JCLC commandant since its start.
JROTC is a non-recruiting program found in many high schools that's partially funded by the Department of Defense. Its core objective is to build leadership skills in high school students of all backgrounds.
"In my experience, I've never had a high school senior not graduate high school while in JROTC. I've never had a 4th-year cadet not excel in whatever they've wanted to do in life, whether that's join the service, go to college, join corporate America. There's a lot of kids out there that go to community college or technical school too. And they're all doing fantastic." Maj. Wright commented.
Sergeant Ryan Medlin, a soldier in the Kansas Army National Guard who acted as an instructor through JCLC shared his opinion about JROTC as well.
"Honestly I think it's a great program. The stuff that the kids go through… it builds teamwork. The way that they can pull together with a group of strangers, it was seriously amazing. It's something I've never seen. It really opens their minds to how leadership works and how you don't have to be a follower your whole life, you can actually step up."
Maj. Wright added that any parent who would like to explore the possibility of enrolling their high school student in the program is more than welcome to speak to any instructor that works for a JROTC-hosting high school, including Junction City High. JROTC instructors are retired military personnel who continue to serve by mentoring cadets.
Maj. Wright would like to say "thank  you" to all the support from families and National Guard soldiers that JCLC has received.
"To all the cadets who've passed through the doors of Camp Konza, well done. Continue to do what you're doing. To future cadets, don't be afraid to take this challenge. It's difficult, but it's one that when you walk across the stage on graduation day and get your certificate, you'll know you've honestly accomplished something."
Follow the link provided at the top of this article to see a video featuring several challenges cadets accomplished throughout JCLC.