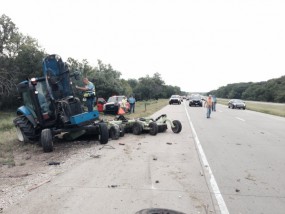 Update at 2:30 p.m.
As KMAN reported Tuesday morning, an injury accident took place just before 9 a.m. on  I-70.
Kansas Highway Patrol indicates the wreck took place about 15 miles east of Manhattan, in the westbound lane near milemarker 317.
Halston Puett (20), of Topeka, was driving his Ford E350 westbound on I-70, when he struck a farm tractor that was mowing on the side of the road.  Myron Sessions (40), of Alma, was driving the New Holland farm tractor, which had a mower deck attached to it.
Puett was taken to Mercy Regional Health Center for treatment.
Original story:
An accident between a box truck and a mower on Interstate 70 at Mile Marker 317 injured one person and slowed traffic on the Interstate just before 9 a.m. Tuesday.
According to Riley County Public Information Officer Matt Droge the driver of the box truck was transported for injuries received in the crash while the driver of the tractor did not appear to be injured. KMAN will bring you more information on this story as it becomes available.