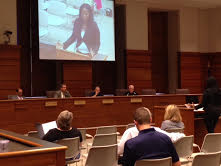 "He did not deserve to be shot on the street like an animal." Those were the words of Sophia Starks, the mother of Dareen Starks,23, of Manhattan, who was shot near a gas station on Manhattan's North side May seventh. While Sophia Starks is from Memphis, she was in town to voice concerns to Riley County Law Board members about the treatment of her son's case, in which she stresses he was the victim but alleges he continues to be harrassed by police.
The suspect in the case, identified at the time as Daeshawn Bryant,18, has since been released on $50,000 bond. She said he was charged with aggravated battery and not attempted murder when he shot her son in the stomach and he was on a ventilator for five days. Starks added "He tried to kill a human being. It can't get more seriouser than that." 
Starks says she'll continue to come to law board meetings until she can get justice for her son and adequate punishment for the suspect in the case. Acting Law Board Chair Dave Lewis thanked Starks for sharing her concerns at the law board meeting, but indicated while the case is is the court system it's inappropriate to discuss it in that setting. He and Assistant Police Director John Doehling encouraged her to bring her allegations to internal affairs at the police deparrment to try to resolve the matter and answer some of her questions.
Law Board member and County Attorney Barry Wilkerson indicated with evidence issues, the matter should be aired in the courtroom first, with Doehling promising to report back on matters that weren't related to the court case.
Starks maintains her son has been harrassed by police even though he's the victim in the case–adding he was immediately arrested after getting out of the hospital on another warrant–and was not provided needed medications until she complained.
It was a day of promotions at the Riley County Law Board meeting, with Lucas Breault promoted to RCPD Lieutenant and Dustin Weiszbrod promoted to Sergeant. Riley County Police Captain Kurt Moldrup provided somebackground on Sgt. Weiszbrod. Weisbrod's young son was participating in the pinning ceremony.
Also Monday, law board members heard from Carol McCullough with Reese & Novelly on RCPD's audit. While there were no real problems, McCullough had one warning and that's rules are changing. She says the auditee is becoming more accountable for federal funding. Asst. Director Doehling told board members McCullough really looks at the department's practices and that it's not just a simple look at the numbers.
After a couple of months of discussion about the cost of special events to Riley County Police involving overtime, Assistant Police Director John Doehling withdrew a general order on how to deal with such events. That's because the numbers quoted at last month's law board meeting were way over-estimated. Rather than amounting to 47 hours, 126 officers and approximately $390,000, Doehling indicated only about $15,000 of overtime was involved.
Doehling added RCPD will go back to handling most special events at no extra charge. The Assistant Police Director admitted to feeling a bit "sheepish" over the matter…
RCPD does contract out for Country Stampede and football and basketball game traffic.