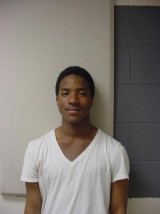 The Junction City Police Department is looking for a wanted fugitive, and has requested the public's assistance.
Marco Foreman (17) walked away from a juvenile placement facility in Junction City on May 23rd, and has still not been taken into custody.  Foreman has warrants for aggravated escape from custody and probation violation.
Earlier this month, Junction City Police Detectives observed Foreman walking in Junction City, but in both instances he was able to flee on foot.  The first time he was seen, he was in the 700 block of West 10th street, and the second time-he was seen near 1st street and Webster.
 He is estimated at 5′ 8", weighs around 140 pounds, and has black hair and brown eyes.
Police are asking anyone that may have information on the whereabouts of Foreman to call the Junction City Police Department at 785-762-5912 or Crimestoppers at 785-762-TIPS. Person with information may also text a tip to 27463, and type in "TIPJC" followed by your tip or submit your tip on line at www.tipsoft.com.