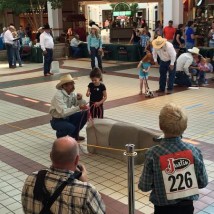 (photo courtesy of Jocelyn Guilfoyle)
Youngsters ages 3-12 got a feel for what it's like to be a cowgirl or cowboy as they competed in several events at the Kaw Valley Junior Rodeo on Saturday at Manhattan Town Center Mall.
Divided into age groups, the kids took turns pitching horseshoes, playing "Cowboy Shuffleboard", roping, and taking a ride on a stick pony for the barrel racing event. The top 2 finishers in each age group…girls and boys…through age 10 each received a medal. The 11 & 12 year olds climbed aboard a mechanical horse and tried their hand at roping a calf from the saddle, with the best score getting a handsome belt buckle.
Dustin Holle, with the Kaw Valley Rodeo Association, noted that the event was a great way to get the youngsters to experience what rodeo is all about. In addition, it's a great way to get the community involved. The Junior Rodeo has been held for more than 20 years, with the Manhattan Town Center being the venue.
The 39th Annual Kaw Valley Rodeo begins Thursday night. Children 12 & under will get free admission with a non-perishable food item to be donated to the Flint Hills Breadbasket, when accompanied by a paid adult.