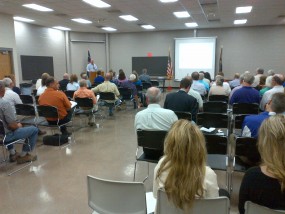 The Governor's Water Vision team made a stop at the Manhattan Fire Department Headquarters on Denison Avenue Thursday morning, as part of the 12-location tour throughout the state.  This tour is for the team to share details about their first draft of the 50 year water vision plan, and gain additional feedback on what to change.
"The first draft of the vision has been posted to our website and we encourage the public to look at the preliminary document.  This discussion draft is based on input the team has been gathering for months from stakeholders representing all water uses.  While we know the solution isn't a one-size fits all, we hope this can address many of Kansas's water priorities", commented Kansas Water Office Director, Tracy Streeter.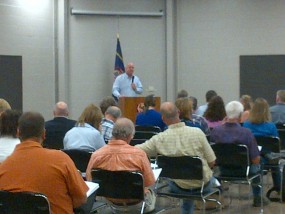 Different members of the team spoke about different parts of the plan.  The vision involves statewide and regional goals, such as reducing the statewide water consumption by 20%.  A few specific goals are outlined in the plan as well, such as conserving and extending the usable lifetime of the Ogallala Aquifer.
Several citizens shared their concerns and questions during the meeting.  Many of the people had comments regarding irrigation.
The vision can be found online at kwo.org.  The team wanted to stress that this is not a final draft, this is just the first draft.  The plan is expected to be completed by November.