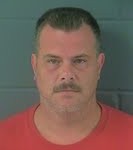 A Junction City man has been sentenced in Topeka for a child pornography charge.
Scott Deppish (43) pleaded guilty to one count of accessing child pornography with intent to view.  Investigators served a search warrant back in February of last year, and seized his desktop computer and two lose hard drives. They found images depicting prepubescent children engaged in sexual conduct.
U.S. Attorney Barry Grissom commended the Junction City Police Department, Homeland Security Investigation and Assistant U.S. Attorney, Christine Kenney for their work on the case.
Deppish was sentenced to 63 months, or just over five years, in prison.