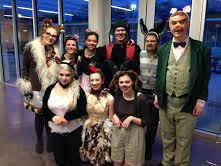 Manhattan High School theater students are traveling to Edinburgh, Scotland for the upcoming Edinburgh Fringe Festival.  The festival is the largest arts and film festival in the world and has taken place every August in Edinburgh since 1947.
The MHS thespians will perform their 50 minute anti-bullying play "Barnyard" while at the festival. This play was written by Manhattan High alumnus Richard Broadhurst.
The theater group invites the public to see their final rehearsal performance before taking their talents across the Atlantic and into Europe.  The rehearsal will take place Friday, July 25 at 2pm in Manhattan High School's Rezac Auditorium.
Donations are welcome at the door to help fund their international trip.
For more information about the rehearsal contact director Linda Uthoff  at (785)-341-1324.