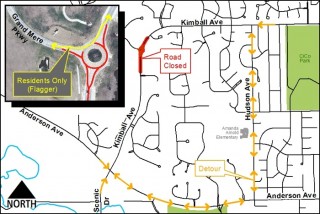 Kimball Avenue at the Grand Mere roundabout will be closed from 9 p.m. Sunday, July 20 through 5 p.m. Monday, July 21. City of Manhattan Street crews will be repairing the failing concrete joints between the panels within the roundabout.
Motorists will have to use alternate routes around this intersection of Kimball Avenue during the repair. Alternate routes for eastbound traffic include Anderson Avenue to Hudson Avenue or K-113. For westbound traffic, motorists should use Hudson Avenue and then take Anderson Avenue to reach necessary destinations.
Residents who live within the Grand Mere area and those visiting the golf course will be allowed to enter and exit only on the east side of the roundabout.