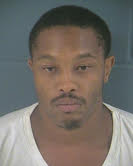 Tensions rose and tears were shed during the preliminary hearing for 37 year old Anthony Nichols.  Nichols is charged in the death of 68 year old John Burroughs, who was reportedly shot and stabbed at his home in September of 2013.
Prosecuting State Attorney, Barry Disney called the first witness to the stand:  Riley County Police Department Crime Scene Technician, Elizabeth Hartman.  She was originally called out to the crime scene investigation on September 8th, 2013  at Burroughs residence off of Farm Bureau Road in Manhattan.  The residence was located in a trailer court east of the police department.
She stated there was yellow crime scene tape when she arrived.  After obtaining a search warrant, photographs were taken, and Hartman began obtaining evidence.
Hartman said she found evidence of blood on the doorknob and the door frame, but there was no sign of a struggle in the living room.  She observed wounds on Burroughs, which appeared to be stab wounds.  After the autopsy, authorities found the gunshot wound two inches from Burroughs's right ear.
On September 11th, Hartman was involved in a homicide investigation at Nichols's residence.  A pistol was collected from the location, and after investigation-the fragments of bullets found at Burroughs's home matched the pistol.
The second witness to take the stand was Christina Love.  She stated she knew Burroughs for 13 years and referred to him as "choir boy" or "nephew".  Love said she also has known Nichols for quite awhile, and said he was a drug dealer.  She used to buy crack cocaine from him.
Love recalled September 6th, 2013, when she went over to Burroughs's residence to drink a beer.  Later that night she spoke to Nichols on the phone.
According to Love, Nichols asked her to drive him to Burroughs's home.  Love knocked on the door and stated her name, and Nichols asked her to return to the car.
Love stated she heard a "pop" sound from within the trailer.  When Nichols came back to the vehicle, he asked her if she heard the gunshot.  Love said she replied "yes" and asked what he had done.  She said his answer was "don't worry about it".
When Love returned home, she informed her son-James McKenith of the incident.  McKenith reportedly asked her "is he dead?" and told his mother they should go back to Burroughs's trailer to see.
Love and McKenith returned, and entered the unlocked home.  Love said she saw Burroughs on the toilet in the bathroom and his head was leaning on a wall with blood on it.
When viewing the picture of Burroughs, Love began to tear up at the stand.  She mentioned she could hear Burroughs gasping for air.
Although Love said she did not see what exactly her son was doing, she said it appeared McKenith began stabbing Burroughs at that point.  Later one, she found that the knife used was taken from her home.
Love described the rest of the events that night, including her trip to Junction City with a friend to obtain crack cocaine.  She said the trip did not result in any drugs, but she did see police cars near the home of 37 year old Anthony Nixon.  Nichols is also facing charges connected in this case in Geary County.
Defense Attorney, Jeffrey Wicks cross-examined Love by inquiring about a sexual contact incident that might have occurred in this time frame.  He also pointed out several occasions where Love lied to officers about the events, and then changed her story at a later time.
Wicks asked "so you made no attempts to report this to law enforcement?", to which Love answered, "no I didn't."  He then asked, "and at first you lied to them?"  Love replied by saying "yes I did".
During the end arguments, Disney stated that the autopsy gives proof that the gunshot wound was from Nichols's pistol".  He asked that Nichols be charged with pre-meditated murder.
Wicks commented, "Burroughs was alive when they returned so there is no basis to bind my client (Nichols) over for homicide".  He asked that all the charges be dismissed.
Judge Wilson stated that since the bullet fragments matched the pistol found at Nichols's house, there was probable cause to bind Nichols over for trial.  An arraignment is set for July 28th at 2:30 p.m.