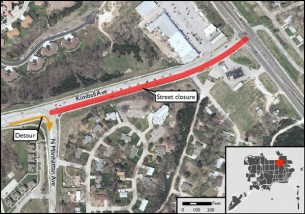 The City of Manhattan Public Works Department issued a release Wednesday morning involving road construction on Kimball Avenue.
Starting on Sunday, Kimball Avenue, from North Manhattan Avenue to Tuttle Creek Boulevard, will be closed nightly from 10 p.m. to 7 a.m.  This will be ongoing for approximately four to six weeks during the work week.
City of Manhattan street crews will be repairing the failing concrete joints between the panels along Kimball Avenue.
Motorists will have to use alternate routes around this segment of Kimball Avenue during the night work. 
Alternate routes for eastbound traffic include Denison Avenue to Marlatt Avenue, or Denison Avenue to Anderson Avenue. For westbound traffic, motorists should use Marlatt Avenue and then take necessary collector streets such as Denison or College Avenue south to reach necessary destinations.
There will be limited access during the 10 p.m.-7 a.m. time frame for business on the north and south side of Kimball Avenue, immediately next to the Tuttle Creek Boulevard intersection.