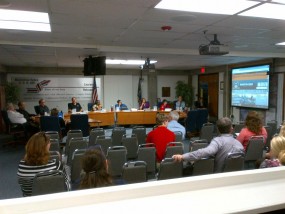 The only new item on Wednesday night's Manhattan Ogden USD 383 School Board meeting agenda involved a student privacy policy.  This is a mandatory change handed down by the state, and Superintendent, Bob Shannon provided background on the topic.
The policy was passed by the legislature, and involves privacy policies for student grades.  Shannon said the final document is not ready yet, but he expected to present the full policy in three weeks.
Since the new policy is mandatory, Board Member, Darrell Edie asked "so neither us, nor the parents, have a choice on whether to sign it or not?"  Shannon answered this question by stating "yes, that's how I read it".
———–
Board Members held another budget development discussion, and Director of Business Services, Lew Faust presented the topic.
Faust shared the six year history for cash reserves, and shared estimated revenues and expenditures.
No official decisions were made regarding the budget, but Faust said he will return during the next regular board meeting with options for the board to proceed forward with.
———–
Other agenda items included a food service annual report from Director of Food Services, Stephanie Smith.
She mentioned she has some concerns with the restrictions on what they can and cannot serve in schools.  She said Gatorade and G2 sports drinks will no longer be offered in most schools, and will be sold in much smaller containers to high schoolers.  She also stated middle school students can only have juices, water or milk.
Director of Communications and School Safety, Michele Jones presented the board with their first official look at the new district web site.  The site is expected to go live sometime on Monday.