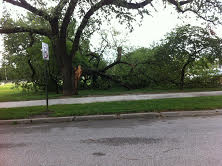 U.S. Highway 24 remains closed this morning from K-113 to the Highway 77 junction at Madison road. Motorists are being advised to use Anderson Avenue as an alternate route. Also Green-Randolph Road is closed from Winkler Road to Tuttle Creek Boulevard due to a large tree blocking the entire roadway.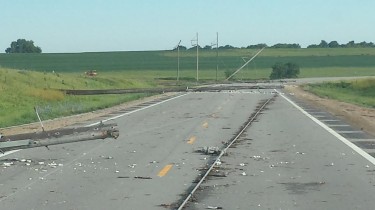 A fire caused by a lightning strike caused and estimated $120,000 damage at 2720 Stone Valley Drive, no injuries were reported. Blue Valley Township fire reports via Twitter that their units responded to a residential structure fire in St. George shortly after 1 a.m. but no further information is available at this time.
The storm also caused numerous power outages overnight. As of 7:10 a.m. Tuesday 689 Westar Energy customers remained without power in Riley County, 973 in Geary County, 45 in Pottawatomie County and 230 in Wabunsee County.