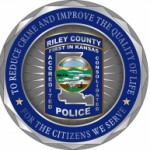 Police are currently looking for an inmate from the Riley County Jail who was approved for work release and failed to return after his work shift. Officers initiated the investigation Saturday after Jason Leonard, 38, of Manhattan failed to return to the Riley County Jail.
Leonard, who is serving time for a probation violation stemming from a felony burglary and misdemeanor theft case, is described as a black male standing approximately 5 feet 7 inches and weighing approximately 170 pounds.
Those with information about his whereabouts are encouraged to contact RCPD or the Manhattan Riley County Crime Stoppers. Those who choose to use the Crime Stoppers service may become eligible for a cash reward of up to $1,000.00.
###
A Manhattan man faces a $15,000 bond after his arrest by Riley County Police this past weekend.   Lanard Reid, 61,was taken into custody at about 10:00 AM Sunday.
Reid was reportedly responsible for chasing after and threatening Russell Springer, 53, of Manhattan with a fire place poker. No injuries were reported.
###
The Riley County Police Department released information Monday regarding an aggravated battery which occurred Friday morning.
John Daugherty (29) of Manhattan was reportedly accosted by an unknown subject whom he was having a verbal argument with. Daugherty received blunt force trauma to his head. There was no medical transport as a result of this incident.
The suspect in this case is unknown and if you have information that could help lead officers to an arrest contact RCPD or the Manhattan Riley County Crime Stoppers.
###
The Riley County Police Department is sharing information regarding a burglary which occurred between Thursday and Saturday of last week in the 1700 block of Fairchild Avenue.
60-year-old Randall Baughman of Manhattan stated that his bike had been stolen from his home by an unknown subject(s). Ultimately police were able to link two juveniles to the theft of the bike, valued at $1,500. A 15-year-old male and a 14-year-old male were both taken into custody and later released to a parent or guardian.
###
Riley County Police received a report of a burglary which occurred shortly after noon Sunday in the 7300 block of Redbud Drive in Manhattan.
Police responded to the scene and met with Roger Donaldson (54) who stated that several items were taken from his home garage. These items were valued at approximately $8,280 and included an air compressor, socket sets, air nail gun, ladder, rug, and tool box cabinet.
Currently no arrests have been made and officers are asking that anyone with information contact RCPD or the Manhattan Riley County Crime Stoppers.