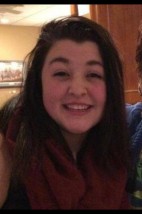 Update:
The Riley County Police Department located Arayah Gauna, 16, of Manhattan at approximately 4:30 p.m. The teen was announced as missing earlier in the afternoon after being away from her home for over 24 hours.
Police located Gauna in the 1500 block of Humbolt Street in Manhattan and confirmed that she was unharmed and was not in danger. She was transported to the Riley County Police Department shortly after being located and was then reunited with family. The juvenile was removed from the missing person/juvenile runaway database late this afternoon. The reason for her disappearance has not been released, but reports indicate that she was not taken against her will.
Members of the Riley County Police Department would like to thank the public for their assistance this afternoon. Department tweets and a press release were distributed to well over 25,000 social media accounts with the help of local news agencies and members of the community.
Update- 4:55 pm:
The Riley County Police Department announced on its Twitter page that Arayaha Gauna (16) has been found.
KMAN will keep you updated when RCPD releases its official report this evening.
Earlier Report:
Police in Riley County are searching for a missing Manhattan juvenile who left home over 24 hours ago. RCPD is currently seeking information on the whereabouts of Arayaha Gauna (16) of Manhattan. The department encourages those with information to contact them immediately by phone (785-537-2112) or by using the Manhattan Riley County Crime Stoppers (785-539-7777).
Gauna is a 16-year-old Hispanic female with black hair and brown eyes. She stands at approximately 5 feet 7 inches and weighs approximately 170 pounds.
Police do not have any clothing description available, as the teen left her home during the night without expressing where she could be found.
Those members of the public that choose to use the Crime Stoppers Service can remain completely anonymous and could potentially qualify for a cash reward. The Manhattan Riley County Crime Stoppers can be contacted online through the "submit a tip" service atwww.ManhattanRileyCountyCrimeStoppers.com or through the "TipSubmit Mobile" app; free on Android and iOS devices.