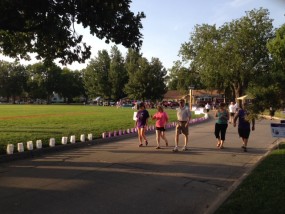 While final numbers won't be tabulated until Monday,  Riley County 2014 Relay for Life Chair Melissa Turnbull told KMAN "I've been impressed with the crowd because of the darn heat." She says 182 signed up, and with their family and friends it was tough to estmate the crowd size. Turnbull anticipated reaching the$40,000 goal. She mentioned the bouncehouse, entertainment which incuded the Sweet Adelines.and  a fundraiser at each tent.
Relay for Life Specialist Juie Sieve said everything's been going very well, including the survivor dinner and police and fire department cook-off. Sieve admitted numbers were still low though, saying they've been declining.
As for the barbecue cook-off,  the Riley County Police Department won overall by winning in the chicken and ribs category. However the Manhattan Fire Department's pulled pork won its division. Riley County Corrections Sgt. Craig Kennedy told KMAN "Our secret is love, brown sugar and Slap your Mama", which is a type of spice.
MFD Deputy Chief Ryan Almes says they felt pretty good about the pulled pork win with one of the judges saying it was the best meat there. He says that's a little step toward winning the trophy, adding they just took their time with it until it was really done. Almes says MFD has been involved with the local Relay for life for more than 10 years and that it's a good fitfor them.