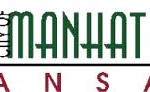 The City of Manhattan is announcing a couple of road closures and repairs next week.
Beginning Tuesday, North 17th Street will be closed from south of Laramie Street to Anderson Avenue for asphalt mill and overlay. The street will be closed for a 24-hour period. Thru traffic from Anderson Avenue to Poyntz Avenue will be detoured to 14th Street and Sunset Avenue.
Travelers are encouraged to follow detour routes.
And final Repairs Will Take Place Tuesday on the Grand Mere Roundabout.City street crews will finish joint repairs at the roundabout on Kimball Avenue on Tuesday. Flaggers will maintain traffic from all directions through the roundabout throughout the day. Repairs will begin at approximately 6 a.m., and the roundabout should be open to all traffic by 5 p.m.
On Wednesday, Scenic Drive from the Anderson/Kimball intersection south to Miller Parkway will under go construction as Shilling Construction performs an ultra-thin microsurfrace treatment on the roadway. Thru traffic will be allowed, but the City suggests motorists seek alternate routes to avoid delays on this segment of roadway. Work is expected to be complete by the end of the day 
Friday, August 1st. 
The City reminds drives to obey all posted traffic control signs, follow the instruction of flagger personnel and traffic control signs as indicated, and use caution around the work zones.