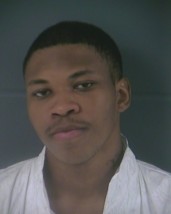 Update on 7/23/14 at 4:00 p.m.:
As KMAN reported Tuesday morning, members of the Junction City Police Department responded to a call in reference to shots fired.  Additional information was released Wednesday afternoon.
The incident is said to have occurred on West 6th Street in Junction City, where the Wendy's fast food restaurant is located.
During the investigation, Robbie Fountain Jr.(21) was arrested on an attempted murder charge.
Officers informed KMAN around 4:00 p.m. Wednesday, that additional arrests were made.  Jefferson James (34) and a 17 year old juvenile, both of Junction City, were arrested on charges of conspiracy in connection with the shooting case.  A 2011 Infinity vehicle and a handgun were seized as well.
Original Story: Junction City Police are reporting a Tuesday night shooting. JCPD Lt. Jeff Childs indicates shortly after 8:30 p.m., members of the Junction City Police Department were dispatched to the area of 440 West 6th street at Wendy's restaurant in reference to shots fired. Upon arrival, it was discovered shots had been exchanged and that all parties involved had left the area. Shortly after receiving the calls of shots fired, the police department learned a subject had arrived at the Geary County Community Hospital advising he had been shot. It was learned the subject had received a nonlife threatening injury and was treated and released. During the investigation parties involved in the shooting incident were located and interviewed. Arrested and charged with attempted murder in reference to the incident was Robbie Dewayne Fountain Jr., 21, of  Junction City. Fountain was escorted to the Geary County Detention Center where he was held without bond pending first appearance at the Geary County District Court. Lt. Childs says the investigation continues.