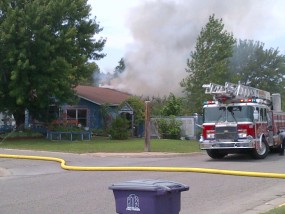 Update at 3:00 p.m.:
A press release was issued regarding the structure fire here in Manhattan Monday afternoon.
Around 12:15 p.m., the Manhattan Fire Department was dispatched to 2400 Buttonwood Drive for a report of a structure fire.  Crews found a single story residential structure with heavy smoke and fire showing from the rear area of the structure.
Six fire apparatus and seventeen firefighters initially responded to the fire.  Due to the high temperatures, additional crews were called as well.
The occupants of the house were not home at the time of the fire, and the owner is listed as Richard Laferriere.
Fire crews were still on scene extinguishing hot spots and performing salvage around three o'clock.  The cause of the fire is still under investigation.
Original story:
KMAN received word of a structure fire in the 2400 block of Buttonwood Drive here in Manhattan around 12:30 Monday afternoon.
Half of the house was engulfed in flames when KMAN arrived on the scene, with a large amount of smoke coming from the upper portion of the house.
Six Manhattan Fire Department trucks, two Riley County EMS vehicles, one ambulance and three Riley County Police Department vehicles were on the scene.
The area is currently blocked off by police vehicles.
KMAN will continue to bring you updates as they become available.