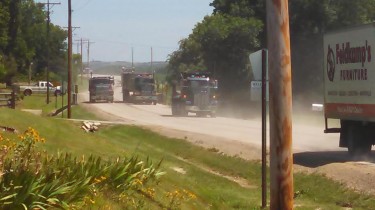 KMAN received reports regarding a large amount of traffic on Anderson Avenue Tuesday afternoon. With Highway 24 still closed, most motorists chose to take Anderson as their alternate route.
There is currently construction on portions of the road, which has resulted in heightened traffic counts. One individual in particular reported that he had a 25 minute delay. The traffic back up that this person experienced was near the 5500 block of Anderson. People were advised to use other roads.
KMAN spoke to Riley County Public Works Director, Leon Hobson, who indicated the construction is part of the mill and overlay project on Anderson Avenue. He said crews were near the Keats area at 12:30 p.m. that day, and they were working towards Manhattan.
This construction will not be delayed or stopped, so motorists will need to choose alternate routes until Highway 24 is functional again.