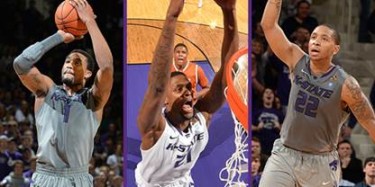 (Photo Courtesy Kansas State Athletics)
By Tom Gilbert, K-State Athletics Communications
Three former Wildcats – Jordan Henriquez, Rodney McGruder and Shane Southwell – will compete in the two Samsung NBA Summer Leagues, which began Saturday in Orlando, Florida.
Southwell was selected to play for the Brooklyn Nets in the Southwest Airlines Orlando Summer League, which began Saturday and runs through Friday, July 11 at the Magic Practice Court at the Anway Center in Orlando, Florida. Henriquez and McGruder were named to the New York Knicks and Golden State Warriors' teams competing at the Las Vegas Summer League, which runs Friday, July 11 to Monday, July 21 at the Cox Pavilion on the UNLV campus.
Southwell did not see action in the Nets' first game – a 101-81 victory over the Indiana Pacers – on Saturday. He is joined on the team by Donte Greene (Syracuse), Mason Plumlee (Duke), Marquis Teague (Kentucky) and Xavier Thames (San Diego State) as well as former Big 12 players, Markel Brown (Oklahoma State), Cory Jefferson (Baylor) and John Roberson (Texas Tech). The Nets play Sunday (July 6) against the Miami Heat at 6 p.m. CT, Monday (July 7) against the Oklahoma City Thunder at 6 p.m. CT and Wednesday (July 9) against the Philadelphia 76ers at 4 p.m. CT.
A member of just the third class in school history to advance to the four consecutive NCAA Tournaments, Southwell saw action in 31 of 33 games for the Wildcats in 2013-14, averaging 9.9 points on 38.4 percent shooting with 4.3 rebounds, 2.7 assists and 1.1 blocks in 27.0 minutes per game.
Fans can watch all the games of the Orlando Summer League via the web at http://www.nba.com/magic/summerleague.
Henriquez will play for the hometown Knicks and new head coach Derek Fisher at the Las Vegas Summer League, beginning Friday, July 11 against the Dallas Mavericks at 3 p.m. CT. The team will also play Saturday, July 12 against the Portland Trail Blazers at 3 p.m. and Monday, July 14 versus the Charlotte Hornets at 3 p.m. CT before beginning tournament play, which runs Wednesday, July 16 to Monday, July 21.
Other members of the Knicks' summer team include NBA All-Rookie First Team selection Tim Hardaway, Jr. (Michigan), former Kansas' center Cole Aldrich as well as the team's second round pick Cleanthony Early of Wichita State.
Henriquez played in 29 games for the Rio Grande Valley Vipers (Houston Rockets) of the NBA's D-League in 2013-14, where he averaged 3.0 points on 39.8 percent shooting with 2.4 rebounds and 0.9 blocks in 9.0 minutes per game. He is a part of the winningest class in K-State history, as he helped the Wildcats to 101 wins and four trips to the NCAA Tournament from 2009-13. He owns both the school's career (210) and single-season (77) blocked shots records.
McGruder will also compete in Las Vegas for the defending Summer League champion Golden State Warriors and new head coach Steve Kerr, beginning Friday, July 11 against the Charlotte Hornets at 7:30 p.m. CT. The team will play two games live on NBA TV, first on Saturday, July 12 against the Phoenix Suns at 7 p.m. CT and Monday, July 14 against the Los Angeles Lakers at 9 p.m. CT, before the start of tournament play.
McGruder will play alongside the Warriors' recent draft picks – Nemanja Nedovic (Serbia), Ognjen Kuzmic (Bosnia & Herzegovina) and Festus Ezeli (Vanderbilt) – as well as former notable college players Aaron Craft (Ohio State), James Michael McAdoo (North Carolina) and Tyrus McGee (Iowa State).
McGruder played internationally in 2013-14 for the Atomeromu Se Paks of the Hungarian A-League, where he helped the squad advance to the Finals. He saw action in the 29 games for Atomeromu, averaging a team-leading 14.4 points on 57.2 percent shooting with 5.3 rebounds, 2.3 assists and 1.6 steals in 27.8 minutes per game. He was one of the final roster cuts for the Oklahoma City Thunder in 2013.
A member of the winningest senior classes in school history, McGruder left K-State ranking in the Top 10 in 14 career categories, including seventh in both scoring (1,576) and rebounding (654). He led the 2012-13 Big 12 champion in eight categories, including scoring (15.6 ppg.), 20-point games (11), rebounding (5.4 rpg.), starts (35) and minutes (33.5 mpg.). He was named to the 2013 All-Big 12 First Team and was honorable mention AP All-American.
More information on the Las Vegas Summer League can be found at http://www.nba.com/gameline/20140711/?iref:nba:sl:subnav.