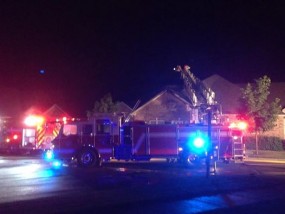 Fire caused by a lightning strike resulted in about 120-thousand dollars in damage to a home in the 27-hundred block of Stone Valley Drive Monday night.
As KMAN reported Monday night, Manhattan Firefighters were dispatched to the structure fire shortly after 9:30 p.m. Upon arrival, crews found a one-story duplex with fire showing from the roof. The fire reached a second alarm before it was contained within 30 minutes. A total of 18 firefighters responded on 5 fire apparatus with the last units clearing at around 12:30 a.m.The occupant at the affected portion, 2720 Stone Valley Drive, was not home at the time of the fire. Loss is estimated at $60,000 to contents and $60,000 to the structure. The owner is listed as Linda McCullough of the same address. The occupants of 2716 had no fire damage, but sustained an estimated $2,000 due to smoke damage.
In addition to the structure fire, high winds in the area caused tree damage and downed power lines. Crews responded to 25 additional calls of service, most of which were related to electrical hazards created by downed power lines.