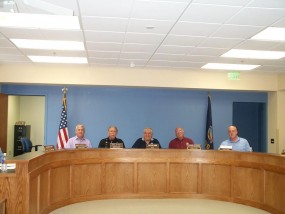 The Wamego City Commission looked at rezoning issues.  At Tuesday's meeting, City Manager, Merl Page introduced two rezoning requests. According to Page, the Planning Commission unanimously approved the request from Construction, Inc.'s Dave Karnowski to rezone his property in the Industrial Park from an I-P to a C-S, in order to expand and add additional camp sites east of the current RV Park location.   Page said the Planning Commission held all the appropriate meetings and there were no protests.
The Planning Commission unanimously voted not to approve the request from Jim Ebert to rezone the property at Parkview and 4th street from an R-1 to R-3, due to protests from the neighboring homeowners.  Ebert purchased the residential property at a recent auction and demolished it entirely.  His plan is to build a combination of affordable apartments and duplexes that are handicapped accessible.  The neighbors were in attendance and cited traffic and safety concerns in building a complex of the size indicated at that location.  The Commission voted to send the request back to the Planning Commission for a lesser change, possibly from an R-1 to and R-2.
The commission also looked into a recycling request, and approved a bid for the Rec Complex.  The only bid was received from Construction, Inc. to do all eight covers for over $30,000.  The bid asked to replace the current wooden supports with galvanized tube framing that attaches to the back-stop support structure.