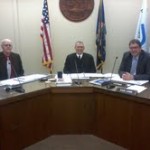 When the Riley County Commission began their budget process in June, department heads and outside entities attended commission meetings to make their budget requests.  After all the requests were made, they were compiled into a budget the commission could look at and make changes to.
During Thursday's commission meeting, Budget and Finance Officer, Johnette  Shepek said the original budget had a mill levy of 41.599, which would have been a 4.507 mill increase from the 2014 budget.  She mentioned several departments were able to make cuts within their budgets, in order to get the mill levy down.
The commission opened a public hearing, for members of the public to comment on the projected 2015 budget.  Since there was nobody willing to share input, the public hearing was closed.
Soon after, the commission approved the budget unanimously.
Commissioners commended department heads for their work in lowering their budgets so the mill levy could be decreased.
—————–
Several department heads were in attendance to share department updates-including Treasurer, Shilo Hegar; County Health Department Director, Brenda Nickel; and County Counselor, Clancy Holeman.