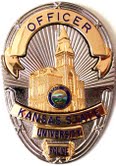 An involuntary manslaughter arrest KMAN first told you about Sunday is reportedly connected to the death of a student at Kansas State University last November. Gregory Melvin Haug, Jr., 21,was taken into custody this past weekend on a warrant, with charges listed as involuntary manslaughter, possession of opiates and/or narcotics, conspiracy, and obstruction of the legal process.
KSU Police Captain Don Stubbings confirmed Monday morning the Haug arrest is connected to last November's death of Jordan Forbit, 18, of Elkhart. He says further information will need to come from the Riley County Attorney's office.
Forbit was found dead in a residence hall parking lot on the K-State campus at 10:35 p.m. November 20th. At the time it was reported KSU police responded to a medical emergency in the parking lot, and upon arrival found Forbit deceased in a vehicle.
Forbit was a freshman in the College of Arts and Sciences and was a resident of Haymaker Hall.
Haug's bond was set at $25,000. He was taken into custody at the RCPD law enforcement center on Seth Chlid at about 3:45 p.m. Saturday.
Haug made an appearance in Riley County District Court Monday afternoon, and his next court date was set for Tuesday, September 9th, at 1:00 p.m.