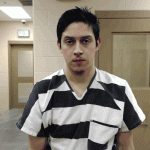 Update at 3:00 p.m.:
Jurors reached a verdict and presented it to the court Thursday afternoon, as they found Gonzalez guilty of unintentional, but reckless, murder in the second degree.
As far as the aggravated assault charge Gonzalez faced, in connection with an incident that occurred prior to the alleged shooting with a different victim, Gonzalez was found not guilty.
His sentencing was set for September 25th at 9 a.m.
Original story:
Prior to jury deliberation, Pottawatomie County District Court Judge, Jeff Elder gave jurors instructions for the Pablo Gonzalez case.
Gonzalez is charged with second degree murder and aggravated assault.  Both charges stem from an alleged shooting incident that took place on New Year's Day in St. Marys, where Levi Bishop (24) was found dead.
Jurors had four options for possible outcomes of each charge.  For the second degree murder charge, they had options of-intentional second degree murder, non-intentional second degree murder, involuntary manslaughter or not guilty.
After Judge Elder concluded with the instructions, final arguments began.  Prosecuting State Attorney, Sherri Schuck was the first to present her statement.
Schuck focused on the facts that were presented in the case that she believed proved the crime was intentional.  She did admit that Gonzalez was under the influence of alcohol at the time of the crime, but indicated he knowingly and intentionally pulled the trigger on the gun.
She also stated the crime could not have been an accident, as it was Gonzalez's gun and he was familiar with it.  Schuck said Gonzalez would have been able to tell the gun was loaded.
Defense Attorney, Ron Evans attempted to prove the crime was unintentional in his closing statement, and mentioned Gonzalez did not try to hide the crime.  He pointed out Gonzalez drove to the sheriff's department in St. Marys after the crime took place, and the officer that answered the door testified that Gonzalez was in a hysterical crying state.
Evans also pointed out Gonzalez and Bishop were good friends.  Gonzalez had been dating Bishop's sister for several years, and was living with her at the time of the crime.