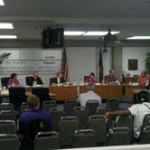 Although the budget will not officially be approved until a public hearing is held during the next regular meeting on August 20th, the Manhattan Ogden USD 383 School Board agreed on the proposed budget.
Director of Business Services, Lew Faust presented the budget, which has been adjusted during previous meetings.
The board's original goal was to keep the mill levy increase under a mill, and they definitely did so-as the proposed mill levy stands at 52.49, which is an increase of .04 mills over last year's budget.
Board Vice President, Marcia Rozell made a motion to give final approval to the recommendation to publish the notice of hearing, with the hearing being scheduled for the next meeting-August 20th.
——————-
Several board members took the time to comment on the success of central enrollment.  Superintendent, Bob Shannon mentioned this year's enrollment numbers were the best they have been in the past 11 years.
The number of students for central enrollment increased by 20 students from the previous year.
——————–
Other agenda items included the new student privacy policy, which was approved 7-0.